Call Her Savage (1932)
MoMA's To Save and Project Festival, dedicated to screening recently restored and preserved films from archives and studios around the world, opened its 10th annual event with a brand-new restored print of Clara Bow's 1932 comeback vehicle,
Call Her Savage
. A little back story is necessary to put the importance of this film into context. In the second half of the 1920s, Clara Bow was the most famous movie star in the world. She was the top box office star for Paramount Studios, and also regularly beat better-regarded stars at more prestigious studios in ticket sales. Star, studio, and public were exceedingly happy with the "It Girl" persona and its lucrative rewards until the business transitioned into sound, causing Brooklyn-born Bow panic attacks about her voice, fearing a childhood stutter would re-emerge. The mix of Bow's personal problems with the new technology and dwindling box office returns when Paramount continued to stick her in formula "It Girl" films led to her early retirement in 1931. A year later, Fox offered her a two-picture deal to return to the screen, and the results were
Call Her Savage
(1932) and
Hoop-la
(1933).
Clara brandishing her bullwhip
In
Savage
, Bow plays Nasa Singer, a wild hellion introduced riding her horse while screaming "Yippee!" before being thrown yards away from a rattlesnake, which she proceeds to bullwhip back into the brush, and turning the whip on her family servant, Moonglow, when she hears him laughing at her fall. Nasa's temper will continue to haunt her as she marries a sleazeball gigolo to spite her stuffy father, gets into a catfight with a woman who taunts her nickname "Dynamite", and sinks her engagement to a millionaire's son by destroying the dinner table during another fight at a dinner party. The ultimate journey of the film is to discover the root of her anger, but there is no suspense in the search for truth because the audience has been privy to Nasa's mother's affair with an Indian brave in the first act of the film.
Pre-code Clara
In all of its pre-Code glory,
Savage
has some decidedly provocative moments. Bow's erect nipples are seen through a shirt and a nightgown in separate scenes; Bow's slimy husband is introduced coyly discussing his and his girlfriend's hotel affairs; gambling and drinking rums rampant in the high society life; a major character develops mental illness from a bad case of venereal disease; Bow prostitutes herself to pay for medical prescriptions; a child dies in a fleapit hotel fire; and characters slum in a Greenwich Village gay bar, where queer waiters perform a song in maid drag (an unbilled Mischa Auer appears in this scene). And most miraculously, Bow's character goes unpunished for any of her wrongdoing. In fact, the abrupt ending is just one of the myriad of issues plaguing the film. It is the capper to a script with no clear sense of what kind of film it wants to be. The film can be split into chapters, which might be sensible considering it's based on a novel, except none of them really gel together. Gilbert Roland, one of Bow's long-time paramours, plays Moonglow, a character hinted at as the right man for our heroine, but that proposed scenario never materializes. Thelma Todd and Monroe Owsley steal more scenes than they should as Bow's chief nemeses.
Clara's winning smile
Of all the problems with
Savage
, Clara Bow is not one of them. Her character is poorly drawn, but her performance is funny, bold, and touching at all the appropriate times. Despite the concerns of the studio and Bow herself regarding her voice, there is not one thing wrong with it, nor her dialogue delivery. But where her performance sings, and where it always did, especially in the silent days, are in wordless moments. Bow was a seventh-grade dropout, never took an acting class in her life, who became a star because of her natural ability to inhabit a character so fully that the audience is completely on her side, man and woman, falling in love with her. When her face lights up with mischief and joy, the audience smiles and laughs, hearts singing. When her breezy sexuality is at its most enticing, men want her completely and women want her "It" for themselves. When her eyes well with tears (and Bow remains one of the few brilliant screen criers), the audience cries with and for her. You don't need words for these emotions, and that is where even in her sound films, Bow is a resounding success. She overcomes the considerable production issues of her films simply by being Clara Bow. There are few like her, then and now. If you aren't familiar with her work, discover what you are missing. If you don't like her, we have nothing more to say to each other.
It's interesting to note that Bow considered this one of her favorite films, though I personally think the better film, also containing the better performance, is her very last feature,
Hoop-la
, screened at last year's To Save and Project. The notoriety surrounding
Savage
, as well as its slightly more accessible availability,
has earned it more acclaim, while
Hoop-la
receives little to no attention today. This is a shame. It deserves the accolades
Savage
has received over the years. But both stand as testament that Bow could have had a successful talkie career, with a better studio behind her and if she had actually wanted to continue. She left Hollywood of her own choice, before the cruel business had the chance to toss her out when it was done exploiting her.
The first four minutes of Clara Bow on-screen in CALL HER SAVAGE.
Wild Girl
(1932)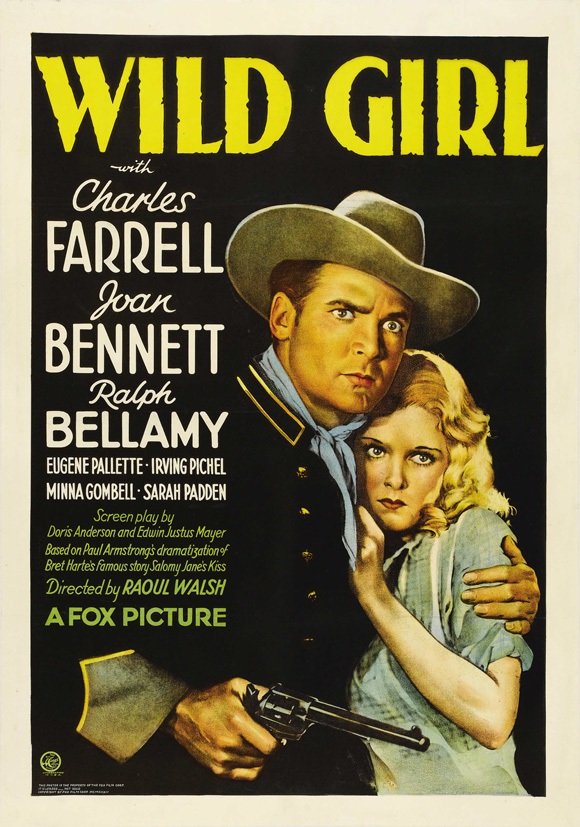 Joan Bennett as "wild girl" Salomey
The same year as
Call Her Savage
was attempting to revitalize Bow's career, Raoul Walsh was shooting a much more satisfying pre-Code melodrama for Fox. Shot entirely on location in Sequoia National Park,
Wild Girl
is a beautifully stylish backwoods tale with an unusual love quadrangle and some disturbing and provocative imagery. Based on a play, which was itself inspired by a short story, "Salomey Jane's Kiss", Walsh's pulpy tale follows Salomey, a tomboyish country girl living on a woodland property close to Redwood, CA. She is pursued by handsome poker player maverick Jack Marbury and weaselly bloodhound owner Rufe Waters, as well as lecherous mayoral candidate Phineas Baldwin, but her heart is won by a mysterious stranger who wanders into town and shoots Baldwin for wronging his sister back in Virginia. Several other sordid crime subplots interweave with the love story of Salomey and the stranger, but in a satisfying and ultimately rewarding way.
Salomey and the "wild children" of the woods
I will admit, Raoul Walsh has completely flown under my radar over the years. While Andrew Sarris and other critics and academics have sung his praises in the re-appreciation of lesser-known Hollywood auteurs, Walsh has primarily avoided my interest because of his frequent work in the western and action-adventure/war genres, never my favorites. Now that I've seen two of his films in the space of two weeks, it's safe to say that I need to see more of them. He has an interesting visual eye, made all the more intriguing because he wore an eye patch. The photography in the film is breathtaking, capturing the light shining through the huge trees splendidly, and the location work is even more stunning considering this is still early on in the sound era. In delightful pre-Code moments, a skinny-dipping Salomey meets the stranger for the first time as he wanders into the lake to quench his horse's thirst (the four backwoods children she swims with are also seen nude from behind in rather startling footage); the shooting of Baldwin is surprisingly graphic; the myriad of prostitutes and saloon girls, including wise-cracking Millie (the marvelous Minna Gombell), who cackles as the supposedly moral Baldwin lays dying at her feet, are portrayed frankly; and the Sheriff and his men lynching a stagecoach robber in the woods is a haunting sequence. The events in the film are connected by a unique framing device: the entire film is realized as a visual book, with the opening credits featuring the actors in character introducing themselves, and the standard transitional wipes are transformed into turning pages. It adds an otherworldly literary feel to the film, more successfully than the novel-like
Savage
, and accents Walsh's frequent and picturesque fairy tale images (including an introductory sequence of Salomey and her Mammy rushing down a mountain overrun by baby bears that scurry into the trees and bushes as the humans approach). This is a real jewel of a movie, not as well-aged and fascinating as other films of the same era from Warner Brothers and RKO, but just as deserving of a contemporary audience. Let's hope that this restored version, as well as Bow's two beautifully preserved Fox films, will see home video release soon.
Ralph Bellamy and Eugene Pallette play cards behind the scenes
Before she became a brunette femme fatale in the 1940s, Joan Bennett was modeled as an almost identical blonde surrogate to her older sister, Constance, also a successful ingenue type during this period. While Constance would be used to greatest effect in comedies like
Merrily We Live
(1938),
Topper
(1937), and
Our Betters
(1933), Joan excelled in melodramatic parts like Salomey Jane in
Wild Girl
. She's quite superb and surprisingly natural here, without the haughty tones she would adopt later in her career. Male lead Charles Farrell was most popular in the silent years, perhaps most memorably as Janet Gaynor's love interest in Borzage's
Seventh Heaven
(1927). While John Gilbert was drummed out of Hollywood when the microphone revealed his high-pitched voice did not match his swarthy ladies' man image, Farrell somehow survived into the 1930s despite a similar handicap. He's handsome enough, but some viewers may be left wondering why in the Hell Salomey doesn't go for Ralph Bellamy, perhaps never more charming and handsome as gambler Jack Marbury. Always-welcome character actor Eugene Pallette, with his bullfrog voice and bug-eyed reaction shots, reliably steals scenes left and right (remember
My Man Godfrey
?). Unbilled as Salomey's Mammy is Louise Beavers, making the most of a thankless and stereotypical role, a few years from her ultimate performance in
Imitation of Life
(1934). Beavers was more talented than many white actresses of the period, but of course the color line in Hollywood kept her from getting many real chances to demonstrate her gifts.
Alas no video clips from
Wild Girl
. It's
that
rare! It is screening again at MoMA on Thursday October 18 at 4:30PM. Follow
this link
for more information on the screening. Obviously I highly recommend you add it to your calendar! It's one of those once-in-a-lifetime movie experiences that makes rep theater in New York City such an embarrassment of riches for film lovers.